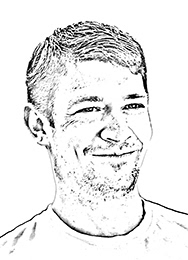 Thorsten Janes, born 1977, is a freelancing photo and graphic designer from Cologne, Germany. Currently he lives in Saarbrücken. He has studied graphic design & communication with a focus on photography at the Rhein-Sieg-Academy for realistic fine art and design.
His preferred photography genres are landscapes and nature. But he sometimes also ventures into architecture, portrait, stills, abstract forms as well as bodies in motion. He is in a permanent process of learning and researching new forms to express what he sees.
I invite you to discover landscapes, structures and people, re-defined by the powerful contrasts of light, shadow and ever changing colours. Very often, I focus on the heavens above them, who seem to interact and speak to what is below.
I challenge you to look through my eyes, that are constantly searching for new moments of beauty and transformation in nature and everything around us. This is the stuff, that my dreams are made of. 
I love to share them with you!
and welcome on Thorsten Janes Photography!
This is my new website and I'm still working on it and adding old and new pictures. It may take a while because I am very busy right now and there is much travelling ahead. 
So please come back and have a look now and then. Thanks! 
If you want to buy a print, please do not hesitate to contact me! There are many interesting ways in which my photographys and artwork may be presented at your home, workplace or virtual environment.
Landscape Photography and artwork
​​​​​​​
If you're interested in a print I would recommend Photo prints, FineArt prints or Acryl glas*. Most of my photographies are available in sizes from 20x30cm / 7,8x11,8in. up to 100x150cm / 39,3x59,0in.
Each print you may buy will have the artists signature. On top you get a full hd (1920x1080px) wallpaper (digital copy), with logo, for your computer desktop via e-mail.
All you have to do is find the photo you love and let me know. All pictures have a number above or beneath the watermark logo to identify them easily!
Some photographs are above the ordinary and outstanding because of the beautiful colors, the fantastic lights, the composition, the time or location the picture was taken, etc. For there uniqueness they get a higher priority.
These are some of my favourite pictures!
The photos and artworks from the Limited Edition are only available in three different sizes and as Acryl glas* with a Dibond

***

support surface for more stability.
- 100 pieces for the 20x30cm / 7,8x11,8in. version.
-  60 pieces for the 40x60cm / 15,7x23,6in. version.
-  
40 pieces for the 60x90 / 23,6x35,4in. version.
Each print you may buy from the Limited Edition will come with a handwritten signature and a documentation certificate on the ordered artwork within the title, buying date, date of origin and the running number. Also you get a full hd (1920x1080px) wallpaper (digital copy), with logo, for your computer desktop via e-mail.
There will be no further editions of these pictures!
So this is a very exclusive and rare photography from Thorsten Janes Photography.
For those tango dancers who are interested in a tango picture of there own, you can buy prints and digital copies for your website aswell.
Do you have questions? Or need more info! 
Please send me an e-mail at:
info@thorstenjanesphotography.com
I will answer as soon as possible to give you all the relevant information about possible sizes, prizes or what ever you want to know.
I would like to keep in touch with you there. Getting your feedback and keep you up to date about my latest activities and artwork!